The following chart provides an overview of the Serato DJ Pro main screen. Each point is covered in more detail, later in the manual.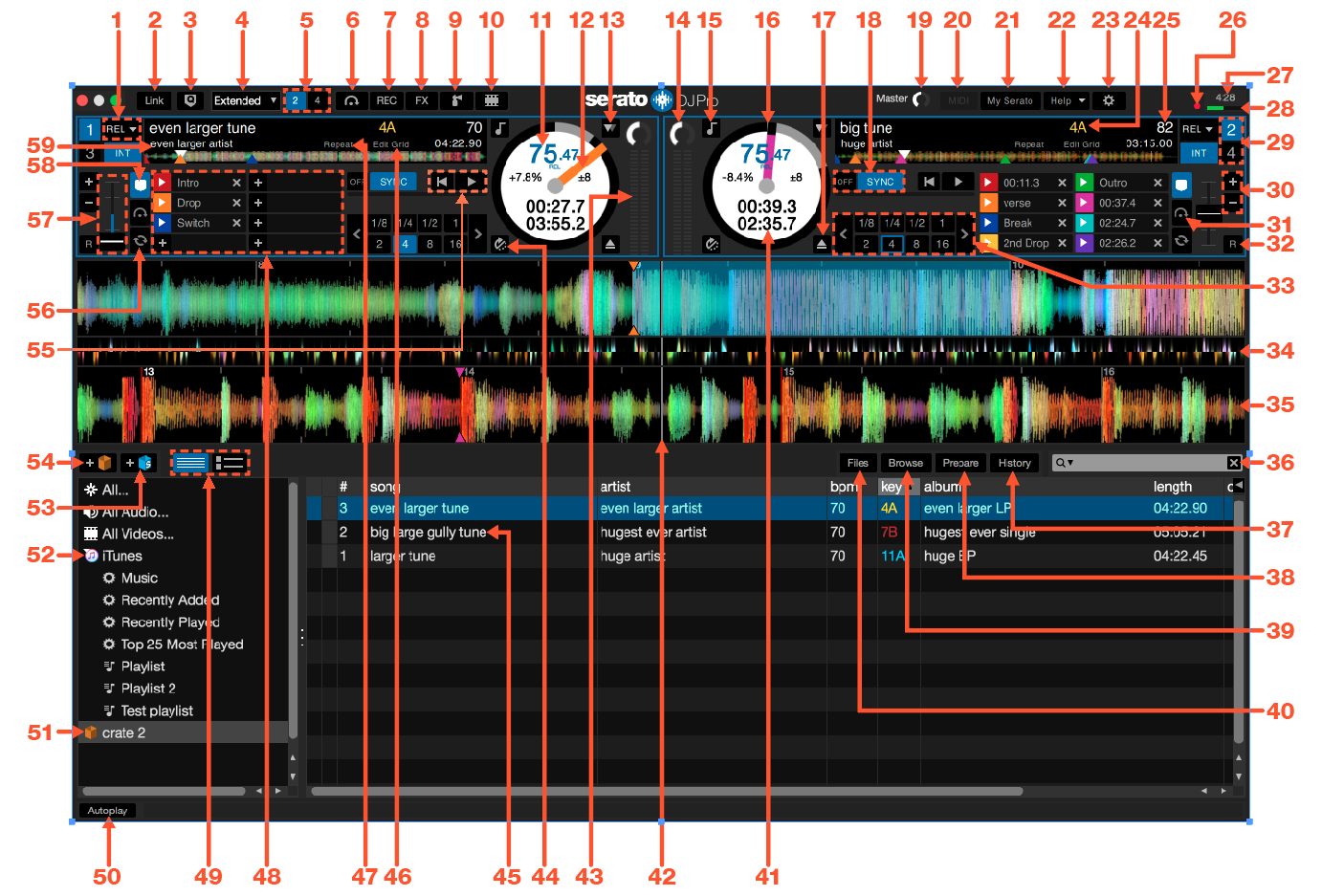 1

Playback mode

Choose Serato DJ Pro playback mode for selected deck. Choose from INT (Internal), REL (Relative) or ABS (Absolute) modes. REL and ABS mode are DVS modes and only available once DVS is enabled in the SETUP screen.
SEE USING SERATO DJ PRO WITH VINYL OR CDS FOR MORE INFORMATION

2

Link

Toggle Link functionality.
SEE USING LINK WITH SERATO DJ PRO FOR MORE INFORMATION

3

Quantize

Turns Quantize On/Off

4

Display Modes

Selects between the available Serato DJ Pro display modes.
SEE DISPLAY MODES FOR MORE INFORMATION

5

Deck Modes

Click to change between Deck modes, depending on your connected hardware. Without hardware connected, toggles between Offline and Practice mode.
SEE PRACTICE MODE FOR MORE INFORMATION

6

Flip panel

Click to open the Flip Recording panel.
SEE SERATO FLIP FOR MORE INFORMATION

7

Record

Click to open the Recording panel.
SEE RECORDING FOR MORE INFORMATION

8

DJ-FX Panel

Click to open the DJ-FX panel.
SEE DJ-FX FOR MORE INFORMATION

9

Sampler Panel

Click to open the Sampler panel.
SEE SAMPLER FOR MORE INFORMATION

10

Serato Video

Click to open Serato Video Expansion Pack if activated.
SEE SERATO VIDEO FOR MORE INFORMATION

11

Current BPM

Shows the tempo of the currently playing track in beats per minute.

12

Platter position indicator

Shows the virtual deck relation to the physical platter position. One full rotation corresponds to one full rotation of the platter.

13

Slip mode

Activate Slip mode.

14

Track Adjust Gain

Allows you to adjust the individual track gain for the currently loaded track. Adjustments made to the track gain are saved to the file and recalled next time the track is loaded.

15

Keylock

Enabling Keylock means the song will keep its key when the tempo of the song is changed.

16

Virtual Deck

Shows playing track information.

17

Eject

Eject a track from a loaded virtual deck.

18

Sync

Enables or disables Sync. State for Deck displayed as blue for Beat Sync, gold for Tempo Sync,
or grey for Arm Beat Sync.

19

Master Output Level Adjust

Allows you to adjust the master output level.

20

MIDI

Enables MIDI Assign Mode.
SEE MIDI ASSIGN FOR MORE INFORMATION

21

My Serato

Click to launch the My Serato Panel.

22

Help

Access 'Show tooltips', 'Show shortcut keys', 'Watch tutorials' and 'Get Support' functions.
SEE GETTING STARTED FOR MORE INFORMATION

23

Setup

Shows the software Setup screen.

24

Musical Key

Displays the key of the currently loaded track. Key tag information can be entered manually in the Key library column, or detected automatically when track is analysed with Set Key checked in the Analysis Settings menu.

25

Original BPM

Displays the original BPM of a properly analyzed track regardless of any pitch adjustment that has been made.

26

Audio drop-out warning light

Shows a colored warning light that indicates the increased the chance of an audio drop-out occurring.

27

Current time

Displays the current time.

28

CPU meter

Shows current computer CPU processing load.

29

Virtual deck toggle

Displays the number for that Virtual Deck. Click to toggle between 1 and 3, or 2 and 4, if available.

30

Bend/Nudge +/-

Click to change the tempo momentarily, nudgding the loaded track forward or backward in time.

31

Flip tab

Shows up to 6 saved Flip sequences.

32

Tempo range

Click to change the currently selected tempo range in the virtual deck. Depending on hardware, either +/-8%, +/-16% and +/-50% are available.

33

Auto Loop Tab

Displays Loop information which allows you to create, modify, save, and clear Loops.

34

Beat Matching Display

Accentuates the beats in the track.
SEE BEAT MATCHING DISPLAY FOR MORE INFORMATION

35

Waveform

Colored Waveform of the currently loaded track to represent frequencies of the sound.

36

Search

Searches your Library or Crate for the text entered in this field.

37

History

Displays the History panel containing tracks that have already been played.

38

Prepare

Displays the Prepare panel containing tracks you have pre-selected for your set.

39

Browse

Displays the Browse panel, which enables you to browse for tracks by genre, BPM, etc.

40

Files

Displays the Files panel, which enables you to search for tracks on your hard drive.

41

Time Elapsed / Time Remaining

Displays the current elapsed, and remaining time, for the loaded track.

42

Playhead

Shows playhead position on the waveform overview of the track.

43

Track Output level meter

Allows you to monitor the individual deck outputs visually.

44

Censor

Reverses the track while held down. When Censor is released, the track will continue as if censor had not been pressed.

45

Library

Displays the songs available in your current library location.

46

Edit Grid

Click to enable Edit Beatgrid Mode.

47

Repeat

When Repeat is on, Serato DJ Pro will play the loaded track again from the start after it finishes.

48

Cue Point area

Shows Cue Point triggers.

49

Library Display modes

Select between either Simple List and Album Art Grid display modes.
SEE LIBRARY MODES FOR MORE INFORMATION

50

Autoplay

When Auto Play is enabled, Serato DJ Pro will automatically load and play the next available track from the currently selected crate, once the currently playing track ends.

51

Crates

Displays a list of Crates, Sub-Crates and Smart Crates available.

52

iTunes

Shows tracks loaded into Serato via iTunes.
SEE SHOWING YOUR ITUNES LIBRARY FOR MORE INFORMATION

53

Add Smartcrate

Adds a new Smart Crate which automatically populates based on rules.
SEE SMART CRATES FOR MORE INFORMATION

54

Add Crate

Adds a new Crate so that you can organize your files.
SEE CRATES FOR MORE INFORMATION

55

Playback controls

Allows you to play the loaded track, skip to the next track, skip to the beginning of the loaded track, or load the previous track.

56

Loops tab

Displays up to 8 Saved Loops per track.
SEE LOOPING FOR MORE INFORMATION

57

Tempo slider

Use the tempo slider to make tempo adjustments

58

Cue Point tab

Displays up to 8 Cue Points per track.
SEE CUE POINTS FOR MORE INFORMATION

59

Track Display

Displays song title and artist information for the track currently loaded to deck.