The Files panel is the largest Library area, and will show files, plugins, FX, and instruments, which correspond with the selected Library Tab. The Files panel is found to the right of the Crates panel, and allows users to view content, preview sounds, and search any included content.

Importing content into your library: Simply drag & drop files from macOS' Finder or Windows' Explorer into Crates, or the Files panel. You can also drop them into an empty area of the Crates panel to create a new Crate with that file stored inside: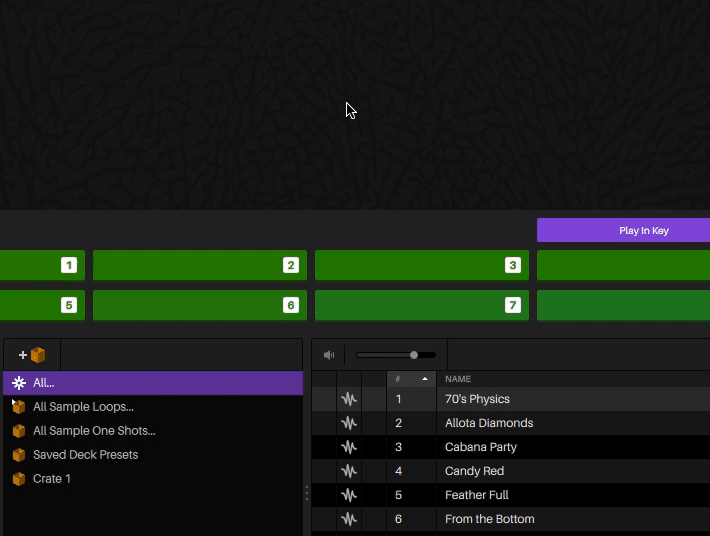 Deleting content from your library: Highlight the content, and press command/control + delete on your keyboard.
Preview sounds: Use the Enter or Return key on your keyboard to preview selected sounds in the Files panel, after selecting the file. Press Enter or Return a second time to cancel the preview.
NOTE: Only Instruments, Drum single shots, Audio Samples (loops & single shots), and your Serato DJ Library can currently be previewed.
Auto-Preview: Click on the Auto-preview toggle to automatically preview compatible sounds while highlighting different sounds in your library.

Preview volume: Use this to adjust the volume of previewed sounds. Double-click on the slider to reset the volume to 0db.


Search: Use this to quickly search for content in the currently selected Library tab.


Search ALL: Click on the 'ALL' toggle to search content in your Studio library regardless of the Library tab currently selected.


Remove search: Clear the search field using this button.


Library columns: Click on a column to order content in the Files panel by that column, click again on the same column to toggle the order between ascending and descending.



Click & drag on a column to re-order the columns to your liking, which will re-order columns for all Library tabs.



Click & drag on the divider between two columns to resize a column.

NOTE: Not all columns can be resized.
Right-click on the header of any library column to show the list of available fields. Left-click on the list to enable and disable the chosen column fields.

NOTE: The Serato DJ Library tab will show the column preferences from Serato DJ Pro
Available columns:
Added*

Album

Artist

Bitrate*

BPM

Colour

Comments

Composer

Filename*

Genre

Grouping

Key

Label

Length*

Location*

Name

Number

Remixer

Sample Rate*

Size*

Status*

Track

Type*

Video track*

Year
*Indicates columns cannot be edited.
Colour column: Activating the colour column in the library enables you to add colours to the specific file. Highlight the track and click on the colour coloum to bring up a colour palette. From there, select a colour that you wish to tag the specific file. For example, loud and aggressive sounds and samples could be red, more mellow and chill sounds could be blue - this can help you easily find the right sounds, samples and instruments to fit into the project you are working on.