When you connect your hardware to your Windows computer, your operating system may secure your hardware as the default soundcard for playback and recording in Windows. If this happens, Serato software will not be able to access your hardware's soundcard and therefore will not connect.
This may show in the Serato DJ Pro status bar as Failed to connect: Audio or Connection failed, please try again, Connection Error, or a similar error message.
If you are using a Windows computer with supported hardware and your hardware doesn't connect, you should:

Close all applications (particularly Serato or other audio applications)



Navigate to Control Panel --> Sound. You can access the 'Control Panel' by searching for it in the 'Start' menu and clicking on the relevant result

On the Playback Tab: Right-click your computer's internal soundcard or speakers and set this as the default Playback device
NOTE: This is the most crucial step of all - see the image below to check you've correctly completed the step

On the Recording Tab: Right-click your computer's internal soundcard or microphone and set this as the default Playback device.

Check the Communications Tab to see if you need to set the internal soundcard as the default device. (this is not always necessary, as with some Windows versions there is no option to set a device in this tab)


Open your Serato software and try to connect your hardware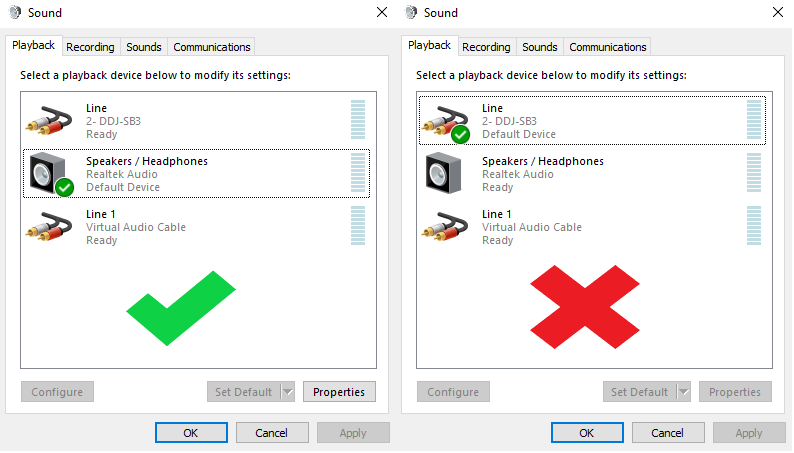 If you're still having trouble, try the steps from our Troubleshooting Connection Issues on Windows guide. If that still doesn't resolve your issue, please open a help request with your computer's system report attached, and the Serato support team will assist you as soon as they can.
NOTE: Some users also need to check microphone permissions on Windows operating systems, as per KNOWN ISSUE: Serato DJ Pro or Lite may fail to connect to some Serato hardware on Windows 10 or 11 computers and may display "Connection Error"