What is HID mode?
You have the option of using HID mode in Serato DJ Pro with supported devices, which allows you to control the virtual deck (when set to INT mode) via MIDI sent directly from the CDJ/Media player, no control CDs are required. (Supported CDJs/media players are listed as 'Official Serato Accessories', here). This also opens up extra software control capabilities utilizing the extra buttons on the HID-compatible device.
NOTE: There are some restrictions on using HID mode with controllers, which is mentioned in our Serato HID & platter accessories and Serato controllers are not officially compatible article.
How do I set up HID mode?
Activation
Connect your Serato DJ Pro hardware unlocked device or Serato DJ Lite hardware unlocked device (along with a Serato DJ Pro license) to bring Serato DJ Pro into performance mode. For advice on activating a Serato DJ Pro license for use with Serato DJ Lite hardware unlocked devices, click here.
NOTE: There are also two video tutorials of this process, that you can watch near the bottom of this article.
Connection
HID mode requires extra USB ports because you'll be connecting the CDJs to your computer via the USB on the back of the player (no need to connect RCA cables when using HID mode), we recommend an externally powered USB HUB for best performance if you only have 2 USB ports available on the computer. If you have enough ports on the computer it's not necessary to use a hub. It's important that the primary Serato device is always connected directly to the computer and not via a hub, however.
For information specific to your device, you can find the relevant Quick-start guides below.
After connecting the device to the computer via USB and opening Serato DJ Pro (with your Serato primary hardware device connected to activate the software). Press the link button on the CDJ/Media player as in the example, using the CDJ2000NXS below: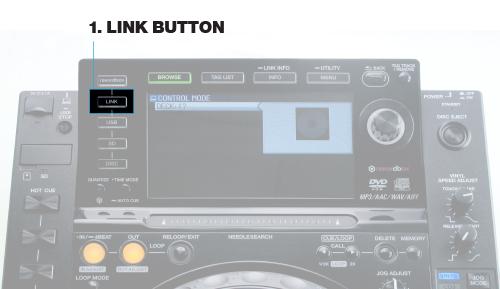 Then press the scroll button to connect the CDJ/Media player to your computer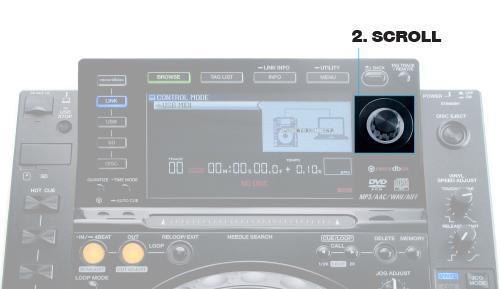 You'll be given the option to select one of the virtual decks in Serato DJ Pro that the CDJ will then control, push the scroll button in again to select that virtual deck.
Once connected, you'll be able to browse your Serato library & crates using the dedicated controls on the CDJ and the song/library information will be displayed on the CDJ's colour screen. You'll also be able to use the dedicated controls on the hardware to control features in Serato DJ Pro, refer to the quick start guide for the CDJ/Media player for more info on the specific controls the player has.
Playback modes
When using CDJ's/Media players connected in HID mode you must use INT (Internal) mode for playback in Serato DJ Pro.
INT mode
Internal mode is only used for playback from CDJ/media players connected in HID mode, or when playing back files using a controller. More information here.
NOTE: Please be aware that when using devices capable of HID mode in conjunction with a controller as your primary device - say to provide platter control for decks 3 & 4 - you may encounter issues, as that configuration is not officially supported. More information here.
Videos