Apple M1 users on macOS 11 Big Sur & macOS 12 Monterey require additional steps before you install certain third-party kernel extensions (drivers), and without performing these steps, your Serato-compatible hardware may not work with Serato software.
NOTE: These steps are only required when using an Apple M1 (M1, M1 Pro or M1 Max) computer, and should only be required the first time you install a third-party driver on macOS 11 Big Sur. These steps are not required for Apple Intel-based computers.
What will I see when trying to install kernel extension drivers on Apple M1 computers?
When you install a driver for the first time for your Serato hardware on an Apple M1 computer, you may see the following, like other macOS users: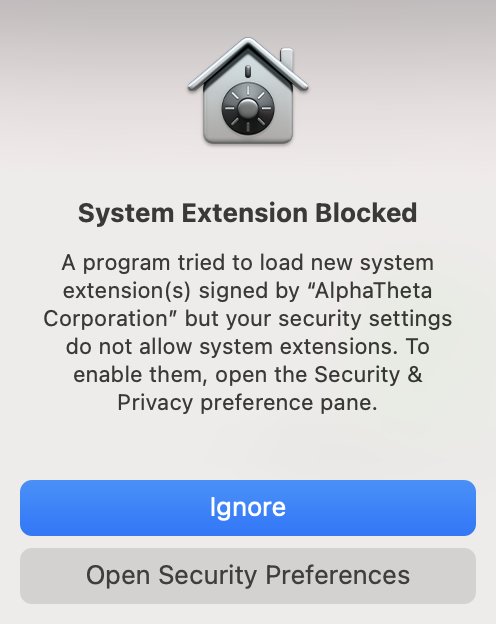 However once you choose Open Security Preferences, and try to 'Allow' the kernel extension you wish to use, you may see the following further messaging: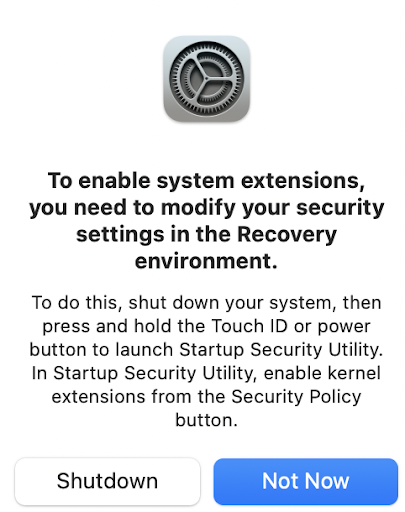 How do I resolve this and allow my Apple M1 computer to use the kernel extension driver?
Apple requires you to enable this option in the Startup Security Utility, which we've provided written steps for below, or you can watch the short video we've made that (approximately) shows the same steps:

Shut down your Apple M1 mac, until it fully powers off (if you clicked Shutdown in the previous prompt, this will already be done)
Hold the power button until you hear the macOS boot sound, then continue holding it until you see "Continue holding for startup options", which then changes to "Loading startup options", upon which you can stop holding the button.
Next, choose Options, then Utilities → Startup Security Utility
NOTE:

If you chose 'Shutdown' in the image prompt above, you may be automatically shown the Startup Security Utility, from step 4 below.
In the subsequent

Startup Security Utility

window that appears, select the macOS 11.2 Big Sur installation on your computer that you use, and then, click on the

Security Policy…

button in the bottom right-hand corner of the dialog box.
Select

Reduced Security, then place a check next to

Allow user management of kernel extensions from identified developers, then click OK
Choose

Apple → Restart
Once your computer restarts, you can then move to

step 3

from the steps further above.
NOTE: After allowing the driver, you may be prompted one last time to restart your computer. Please proceed to do so, if asked, as per the example below: