Serato Studio comes with the Core content pack, which includes content to get you started, however additional content packs are also available to subscribers of Serato Studio on an ongoing, periodic basis.
Subscribing to Serato Studio allows you to access previously released content packs, so you can get access to all available content, no matter the start date of your subscription.
Packs can be downloaded from the Serato Studio sounds page:
https://serato.com/studio/sounds

You will also be notified in-app, of new Sound packs once they are available from the link above: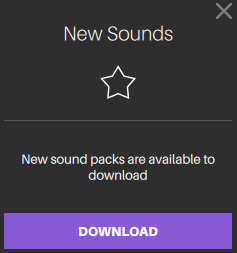 All packs are installed via the default content location:
macOS: MacHD/Users/USERNAMEHERE/Music/Serato Studio/Content
Windows: C:/Users/USERNAMHERE/Music/Serato Studio/Content
NOTE: Moving this content after installation is possible, but not recommended. Use our Relocating Lost Files article if you need to restore missing content that you've moved after installation.
Core Pack
The Core content pack is automatically downloaded and installed into Serato Studio when the software is first opened, or installed on a new device. When this happens, you'll notice a series of icons in the bottom left corner of Serato Studio, which end with the following:


Additional Content Packs
Additional Content can be installed by downloading packs from the Serato Studio downloads page. Content packs come with the .serato-pack extension on both Windows and macOS.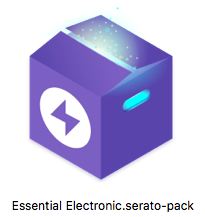 To install an extra Sound pack:
1. Download the relevant pack from the Serato Studio Sounds page.
2. Navigate to your downloads folder and double-click on the resulting .serato-pack file.
NOTE: You may need to extract the content pack before you can install it.
3. Your computer will change focus to Serato Studio if it's already running, or automatically launch Serato Studio
4. In the bottom left-hand corner of Serato Studio, the pack will be extracted & installed



The Essential Electronic pack showing in progress extraction & installation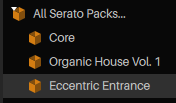 TIP: After installation, new content from Sound packs can be easily filtered by selecting the relevant Crate that is automatically added to your library.