Starting the Software
Connect your Serato DJ Lite hardware to a USB port on your computer, before you open Serato DJ Lite.
Mac OSX/macOS
Serato DJ Lite will be installed to your Applications folder.
Double click the Serato DJ Lite icon in the applications folder to launch. For easy launching, you can click and drag this icon to the dock.
Windows
Serato DJ Lite will be installed in Windows Menu > All Programs > Serato > Serato DJ Lite
To start Serato DJ Lite on Windows simply double click on the shortcut icon on your desktop, or browse your start menu and click the Serato DJ Lite icon.
NOTE: When Serato DJ Lite launches it will automatically detect your Serato DJ hardware, as long as the appropriate drivers are installed (where necessary).
Software Overview
The following chart provides an overview of the Serato DJ Lite main screen. Each point is covered in more detail, later in the manual.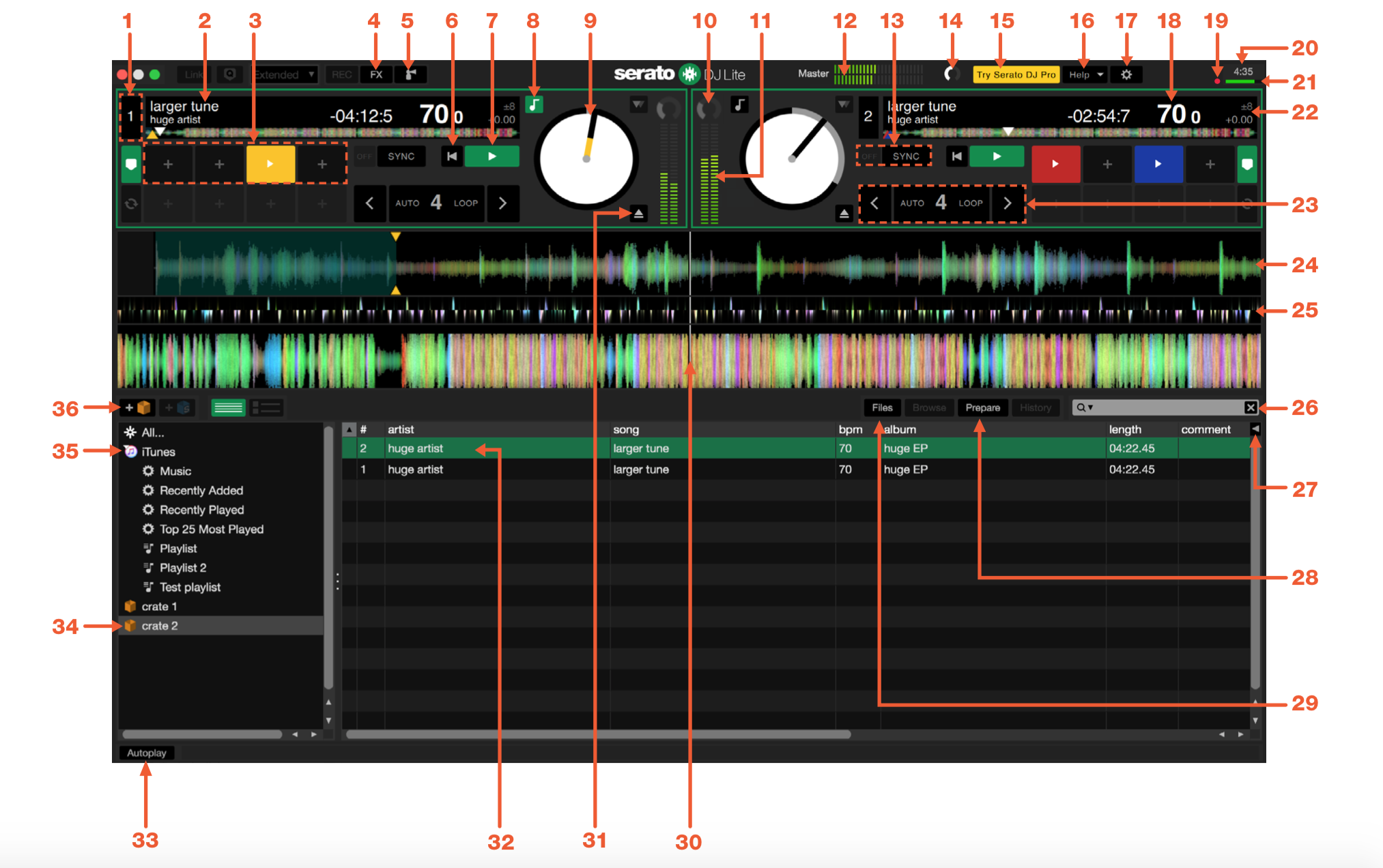 1

Deck layer

Shows currently selected deck layer. Change with deck layer controls if your hardware supports it.

2

Track display

Displays song title and artist information for the track currently loaded to deck.

3

Cue Point area

Click on or press hardware controls to trigger or set up to 4 colored Cue Points

4

FX

Click to open the DJ-FX panel.
SEE DJ-FX FOR MORE INFORMATION

5

Sampler

Click to open the Sampler panel.
SEE SAMPLER FOR MORE INFORMATION

6

Load previous

Allows you to skip to the beginning of the loaded track, or load the previous track by pressing twice.

7

Play

Play currently loaded track, click again to pause. Control + click to reverse play direction.

8

Keylock

Enabling Keylock means the song will keep its key when the tempo of the song is changed.

9

Virtual deck

When a track is loaded to the virtual deck and is playing, the virtual deck will rotate. The outer ring will gradually change from black to grey to represent of the tracks elapsed state. The platter position indicator will change color based on the proximity of the nearest Cue point on the track.

10

Track Gain adjust

Allows you to adjust the individual track gain for the currently loaded track. Adjustments made to the track gain are saved to the file and recalled next time the track is loaded.

11

Track Output level meter

Allows you to monitor the individual deck outputs visually.

12

Master Gain level meter

Allows you to monitor the master output level visually.

13

Sync On/Off

Enables or disables Sync

14

Master gain adjust

Allows you to adjust the master output gain. This is separate to the Master level control on your hardware.

15

Try Serato DJ Pro

Loads your default web browser and takes you to a Serato.com page outlining the features gained by upgrading to Serato DJ Pro.

16

Help

Access 'Show tooltips', 'Show shortcut keys', 'Watch tutorials' and 'Get Support' functions.


17

Setup

Shows the software Setup screen.

18

Current BPM

Shows the tempo of the currently playing track in beats per minute.

19

Audio Dropout Warning light

Shows a colored warning light that indicates the increased the chance of an audio drop-out occurring.

20

Current time

Displays the current time.

21

CPU Meter

Shows current computer CPU processing load.

22

Pitch % and range

Displays pitch adjustment as a % and current pitch range.

23

Auto Loop controls

Select Auto loop sizes and enable / disable Auto loop
SEE LOOPING FOR MORE INFORMATION

24

Main Waveform Display

Colored Waveform of the currently loaded track to represent frequencies of the sound.

25

Beat Matching Display

Accentuates the beats in the track.
SEE BEAT MATCHING DISPLAY FOR MORE INFORMATION

26

Search

Searches your Library or Crate for the text entered in this field.

27

Column selector

Click to choose columns and fields to be displayed in the library area.

28

Prepare

Displays the Prepare panel containing tracks you have pre-selected for your set.



29

Files

Displays the Files panel, which enables you to search for tracks on your hard drive.

30

Playhead

Shows playhead position on the main waveform display of the track.

31

Eject

Eject a track from a loaded virtual deck.

32

Library

Displays the songs available in your current library location.

33

Autoplay

When Auto Play is enabled, Serato DJ Lite will automatically load and play the next available track from the currently selected crate, once the currently playing track ends.

34

Crates

Displays a list of Crates and Sub-Crates.

35

iTunes

Shows tracks loaded into Serato via iTunes.
  SEE SHOWING YOUR ITUNES LIBRARY FOR MORE INFORMATION

36

Add Crate

Adds a new Crate so that you can organize your files.
SEE CRATES FOR MORE INFORMATION
Show Tooltips
Click on the

button in the upper right-hand corner of Serato DJ Lite, then

 to enable tooltips. Tool tips provide a handy way to learn the various features of Serato DJ Lite.

Move the mouse over a section of the screen to bring up a context sensitive tool tip.
Watch Tutorials
Click on the

button in the upper right-hand corner of Serato DJ Lite, then


 to launch your default internet browser and watch tutorials, to help you get familiar with Serato DJ Lite.
Get Support
Click on the

button in the upper right-hand corner of Serato DJ Lite, then 

to launch your default internet browser and navigate to the Serato DJ Lite knowledge base, where you can find helpful articles and guides on Serato DJ Lite. Alternatively, type in the

 box, with keywords, to search the Serato DJ Lite knowledge base for specific, related topics.
Show Shortcut keys
These actions can be accessed directly from the computer keyboard.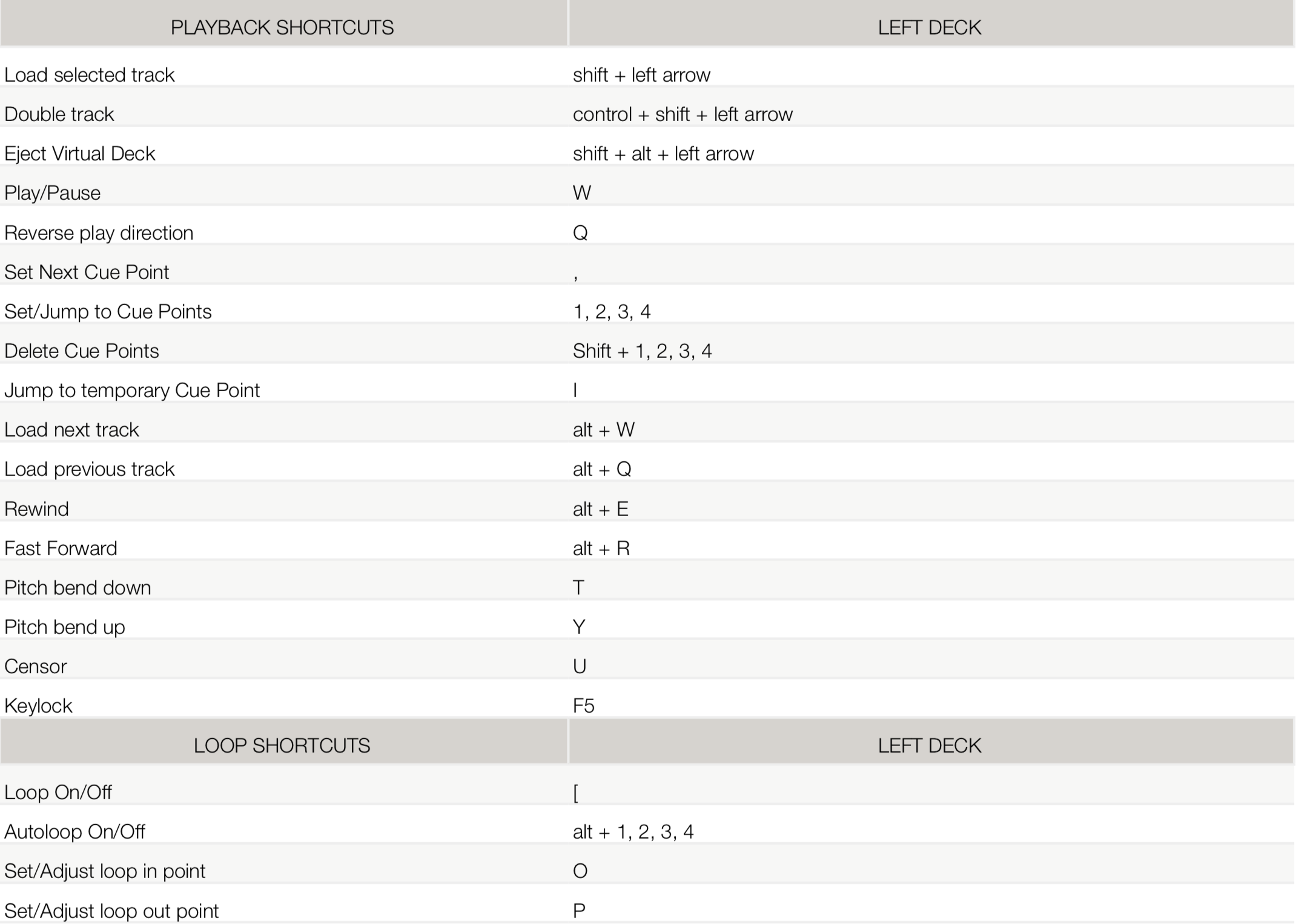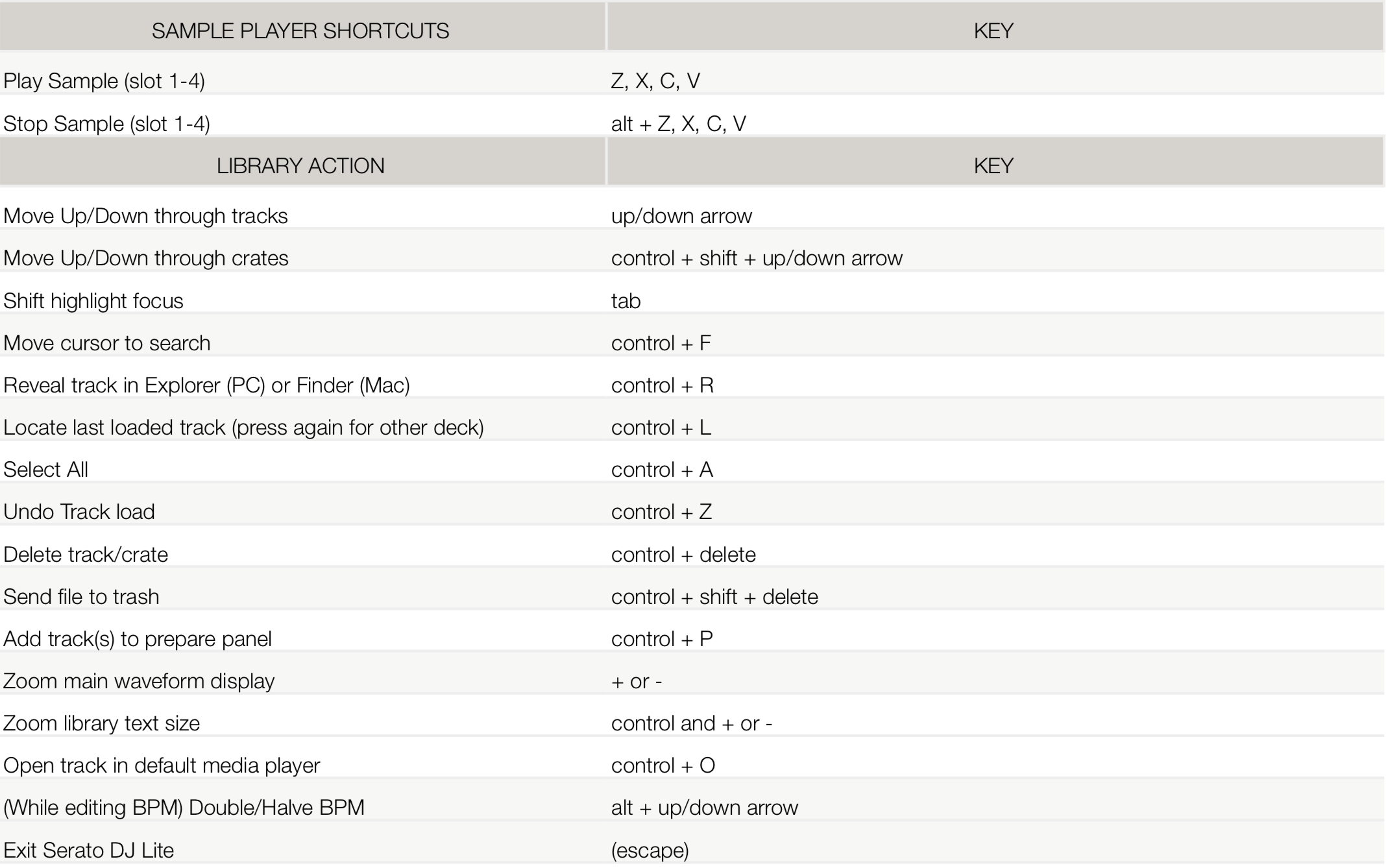 NOTE: If the option 'Playback Keys Use Shift' is enabled on the setup screen all playback keys require either shift or caps lock to be pressed.
The shortcuts described are the keys on a US keyboard. On other keyboards these key positions may be labelled differently.
For example, [control] on Windows is equivalent to [Command] on Mac OS X. Similarly, [Alt] on Windows means [Option] on Mac OS X.
NOTE: For some Keyboard Shortcuts such as Load the highlighted song to a deck (shift + left or right arrows), control can be used as a substitute for shift.
SEE PLAYBACK KEYS USE SHIFT FOR MORE INFORMATION