The of ine player is available when Serato DJ hardware is not connected, and outputs through the current default audio device.
Load a track to the of ine player by dragging and dropping onto the waveform display area, the track display area, or by pressing shift + left arrow. If the end of the loaded track is reached, the next track in the current playlist will automatically play next.
The of ine player is a useful tool for preparing crates, auditioning tracks, and adding Cue Points and Loops. You can also use the Beatgrid Editor in the of ine player, by clicking on EDIT GRID, once you have loaded a track. To access the track controls, simply click on the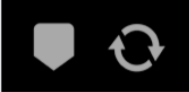 button.
SEE CUE POINTS FOR MORE INFORMATION.
SEE LOOPING FOR MORE INFORMATION.
SEE BEATGRIDS FOR MORE INFORMATION.