If you use a

Paid Upgrade to Serato DJ Pro

device, you'll need additional products or licenses to activate Serato DJ Pro and any additional Expansion packs you may use.

If you use a

Serato DJ Pro hardware unlocked

device, you will still need to manage products or licenses to be able to use Serato Expansion packs.



If the product license (registered to your serato.com user account) is not activated on your computer you will not be able to use it.
If you're unsure which category you fall into, check out our Do I need a Serato DJ Pro or DVS upgrade license? article.
Serato DJ products* can be activated on up to two computers (one main computer and one backup computer).
Managing activations and deactivations of your Serato DJ Pro products and licenses is now simpler than ever, however, a few methods are available, if you've reached 2 simultaneous activations, and need to activate your products on another, 3rd computer.
NOTE: If you are reverting back to a version of Serato DJ Pro prior to 2.5.0 or above, after following the steps further above, you may also need to manually remove your local license files, otherwise you may see a Managed by another user error message in the old My Serato window, or the My Products tab may be greyed out, preventing activation. If this is the case, close Serato DJ Pro and follow the steps in the screen recordings below:

Deactivate your Serato DJ Pro activations using your Serato.com My Account page
You can deactivate your Serato DJ Pro product activations if you don't have access to the computer you need to deactivate, or you don't have another computer you intend to activate your products on immediately. This option is useful if you've lost your computer or are selling your computer.


Click on the following link to go to the Manage Devices page on your serato.com account: https://account.serato.com/#/devices
In the middle of the page will be a card (or series of cards), locate the card with the computer you are trying to deactivate.
Select 'Deactivate this device', then confirm this action in the pop-up confirmation
Note the green banner near the top of the cards to confirm the computer has been successfully deactivated.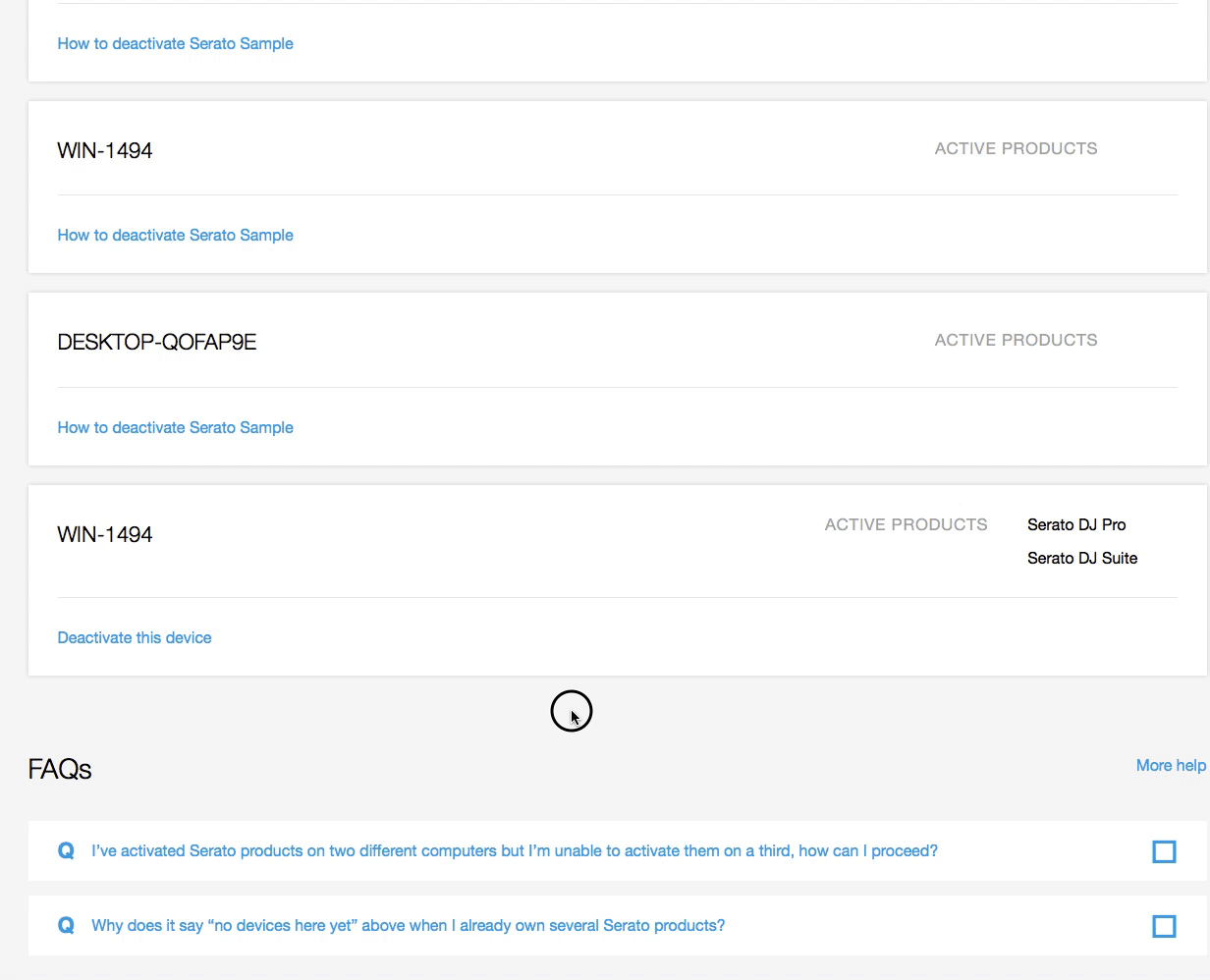 Swapping Activations
The simplest way of switching to another computer, even if you've reached the maximum simultaneous activations, is to sign-in to Serato DJ Pro on the newest computer requiring activation, whereby you'll be prompted to deactivate a previous computer of it's activated products, effectively swapping activations between two different computers.
On your new computer, open Serato DJ Pro, and click on the 'My Account' drop-down near the top right of the Serato DJ Pro interface, then click 'Login':

Once you're redirected to Serato.com, use your Serato.com account details to finish the login process - then click 'Sign in'. Confirm the dialog box that appears in your browser window, that Serato DJ Pro is authorised to use these login credentials.




If you're already signed in to Serato.com, you'll be prompted to confirm the signed in user is correct - which you can click 'Continue', or 'Change user' to change to a different Serato.com account.



At this stage you'll be notified that you've reached maximum activations. Click on the 'Manage Activations' pop-up notification to be redirected to Manage Devices tab of My Account on Serato.com, where you can deactivate a machine of your choosing - simply return to Serato DJ Pro and you should now have a 'License active' notification to confirm the process was successful.

Deactivate your Serato DJ Pro products from a computer you're currently using
You can log-out of Serato DJ Pro on a computer you've already activated your licenses on, deactivating those products, and freeing up a spare activation for another computer.
Click on the 'My Account' drop-down near the top right of the Serato DJ Pro interface, then click 'Logout'
When prompted, confirm you wish to deactivate all licenses on the current computer, and click 'Logout' again:
You're now ready to activate your Serato DJ Pro products on another computer. Login to Serato DJ Pro on your new computer to activate your Serato DJ Pro products.


If you have any trouble with this process, get in touch by opening a help request.