AVX or Advanced Vector Extensions are additions to the x86 instruction set architecture, which pertain to Intel and AMD CPU's that use x86 architecture.
Put simply, the additional instruction set allow compatible processors to perform more demanding functions when used with compatible software. AVX is a hardware dependent feature and software or firmware updates cannot introduce the feature if your CPU does not support it.
What does that mean for Serato software?
Serato DJ Pro, Serato DJ Lite (3.0 or higher), Serato Studio (2.0 or higher), & Serato Sample (2.0 or higher) all require a CPU that supports the AVX instruction set. Serato DJ Pro & Lite, and Serato Sample will not install if your computer contains an older CPU without this feature, where as Serato Studio will not launch once installed.
NOTE: Above and subsequent mentions of 'AVX' refer to the original specification, rather than the AVX2 or AVX-512 iterations, which are not currently required for Serato software.
How can I check my CPU supports AVX?
Trying to download and install Serato DJ Pro or Lite, Serato Studio, or Serato Sample is the simplest way to check if your computer hardware supports AVX, and will result in a failed installation advising one of the following, if your computer does not meet the hardware requirement:
NOTE: For Serato Studio users using versions 2.0 > 2.0.6), you will not see the error message above, and only after installation, when trying to launch the application, will you see an error advising that The application was unable to start correctly (0xc0000142), if your computer does not meet the requirement.
You can also use a third-party software to check if your CPU supports AVX, such as HWiNFO, which can be trialed in a non-commercial environment for limited period.
Once you've run HWiNFO, or another similar third-party software, you'll be prompted to 'scan' your computer, which will then reveal the features of the CPU in your computer.
The sample screenshot below indicates the i7-8550U in the Dell XPS 13 9370, supports AVX, as this feature is shown in solid green, while unsupported features are shown in grey.
NOTE: While we suggest you may like to use a third-party software to find out what features your CPU supports, please understand that Serato cannot be responsible for any third-party software you may use, and you do so at your own risk.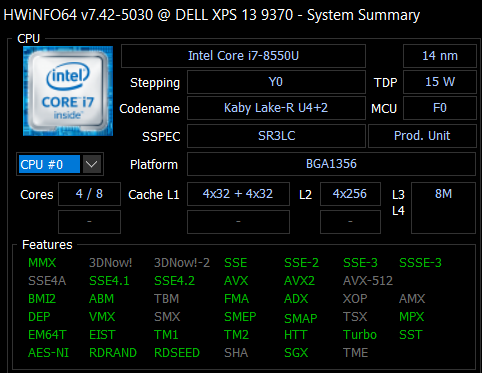 If you're looking to purchase a second-hand computer that you don't have access to currently (and thus can't try the respective installer on), and want to know if it supports AVX - a quick answer is that most supported Intel Core i-series CPU's with the Sandy Bridge micro-architecture from 2011 onwards, and all supported AMD Ryzen CPU's support AVX.
Serato DJ Pro & Lite users can check you're using a compatible operating system, and if possible, that your computer meets or exceeds our recommended specifications.
Serato Studio users can check operating system compatibility and recommended specifications too.
Serato Sample users can also check operating system compatibility and recommended specifications too.
If you're having trouble identifying if your CPU supports AVX please feel free to open a help request with our Support team, who can assist, here.
My computer & it's CPU don't support AVX, what is the last version of Serato software I can use, without upgrading to a new computer?
Serato DJ Pro & Lite users can download & install the versions below:
Serato Studio users can download & install the version below:
Serato Sample users can download & install the version below: