Serato Studio's audio output can be made available to other applications to assist in setting up Livestreams. This is done by routing the audio from Serato Studio to a virtual input device on your computer.
The following guide covers:
Installing the VAD
In order to set up live streaming with Serato Studio, you will first need to install a Virtual Audio Device (VAD) on your computer.
Mac
IMPORTANT: Apple M1 users (only), please note that Live Streaming, via the Make Audio Output available to other applications feature, is currently not supported.
Apple M1 users cannot install the iShowU virtual audio device required for Live Streaming on macOS in Serato Studio, however we are currently working hard on an alternative, which we hope to announce in a future update, soon.
Please follow the steps on the developer's page below to install iShowU Audio Capture, the VAD supported with Serato Studio and your Mac.
NOTE: SWB Audio capture (the replacement for iShowU), is not currently supported, and iShowU should be installed on all supported operating systems.
Windows
Please follow the steps below to install Virtual Audio Cable, the VAD supported with Serato Studio and your Windows computer
Download Virtual Audio Cable Lite setup from here - https://software.muzychenko.net/freeware/vac464lite.zip
Right-click on the 'vac464' in your downloads and select 'Extract here'
Open the 'vac464' folder and double click on 'Setup'
Click 'Yes' when presented with 'Do you want to allow this app to make changes to your device?'
Click 'Yes' on the 'Do you want to continue?' installation prompt
Read the licence agreement and click 'I accept'
Click 'Install' to start the installation process
Click 'Yes' if you wish to change the default audio device
The installation process has completed, click 'Ok'
Enabling Serato Studio audio for other applications
Once the VAD has been installed you will need to enable the device from the Serato Studio Setup menu.
Launch Serato Studio.
Click on the Setup Cog on the right-hand side of the top toolbar
Proceed to the Audio tab
Enable the 'Make Audio Available to Other Applications' slider
Audio from Serato Studio will now be routed into iShowU Audio Capture or Virtual Audio Cable and available in other applications as a selectable input.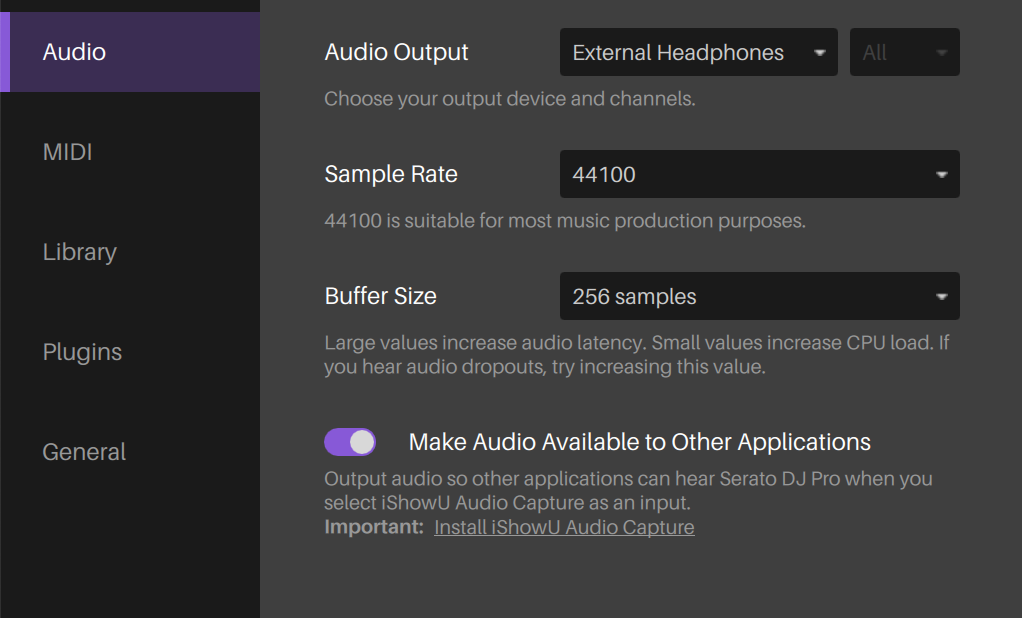 How to set up Live Streaming (OBS)
Open Broadcaster Software (OBS) has proven to be a great option to use for live streaming. It's free and easy to use provided your computer meets the minimum system requirements - https://obsproject.com/wiki/System-Requirements
NOTE: OBS has been used for the purpose of this guide. Other live broadcasting and streaming software can also be used.
Download OBS
Download OBS free from here and install the application -

obsproject.com

Open Serato Studio. Connect any supported hardware you are using

Open the OBS application

On the initial launch, you will be presented with an Auto-configuration message. We cover the steps of the Auto-configuration in this guide - Optimizing Serato Studio and OBS for Live Streaming
Creating a 'Scene'
Click on the '+' sign in the Scenes area in the bottom left of OBS.

Label the Scene whatever you wish
Setting up your Audio Input
You'll need to tell OBS what audio to capture from your computer. This can be done in the 'Sources' tab down the bottom of the application.
Click the '+' sign in the 'Sources' tab and select 'Audio Input Capture'

Check 'Create New' to add a new device. Again, you can name this what you want.

Choose the 'Device' you want to receive audio from.

This will be the iShowU (Mac) or Virtual Audio Cable (Windows)

Do a quick line check and make sure your audio is being received by OBS. Y

ou should see audio coming into the VU meter in the 'Audio Mixer' area of the software.
NOTE: In some circumstances, changing the sample rate of your session in Serato Studio

after

setting up your audio input in OBS, may result in a lack of audio in OBS.
To rectify this, simply remove the audio input you just created in steps 1-4 above, by clicking the '-' sign in the Sources tab next to the audio input, then re-add it starting from step 1 above.
Adding Visual Sources
For information on adding Live Camera and a GUI feeds to your stream, click here.
NOTE: Adding more sources to your Scene increasing the impact on the computer and could lead to performance issues.
Going Live
Firstly you will need to choose your streaming service. For this guide, we have chosen Twitch however you may choose whichever platform you wish.
Once you have created a Twitch account, you will need to acquire your streaming key. On Twitch, this is located under your Account Settings in the Channel and Videos Tab or alternatively, click here.
Setting up OBS with the Stream Key
Open the OBS settings menu and click on the 'Stream' tab.
Choose the service you chose from the 'Service' drop-down menu.

Copy the Stream Key from your platform and paste it into the 'Stream Key' text box.

Save this profile and label it so you can get going quickly the next time you want to live stream.

Press

'Start Streaming

' located in the bottom right corner of the application to go live to your selected platform and start playing your tracks.