You may notice some files in your Serato Studio library get marked as a 'Problem File' - This is shown by a yellow warning triangle in the status icon column of the Serato Studio library.
When hovering over the problem file icon, you will be presented with the following messaging -
'This file may not work correctly when loaded. Learn more.'

A file can be flagged as problematic for a number of reasons, here are some steps you can try to fix problem Files:
Re-download the file from its original source
Check to see if the file is an audio file. If the files extension has been changed, it may be recognized as a problem File. E.g an image file with an audio format extension.
Check the size of the file is too big - Serato Studio does not support files that are 2GB or larger. If files larger than 2GB are necessary, these will need to be split into multiple files smaller than 2GB.
Re-Encoding
If the suggestions above do not resolve the problem File, we suggest trying to re-encode the file. This can be done using iTunes/Apple Music or any other file converter/re-encoding software you may already have access to.
Follow the steps below to re-encode files to various formats using iTunes/Apple Music.
If you do not have iTunes/Apple Music, you can download it for free by following this link > http://www.apple.com/itunes/download/
Firstly you will need to add the problem file or files to your iTunes library. Please use the guides below to do this if you are unsure.
To re-encode a file:
1. Open iTunes Preferences. Windows: Choose Edit > Preferences. Mac:Choose iTunes > Preferences.
NOTE: If you are using macOS Catalina, import settings are found under the Files tab in Music > Preferences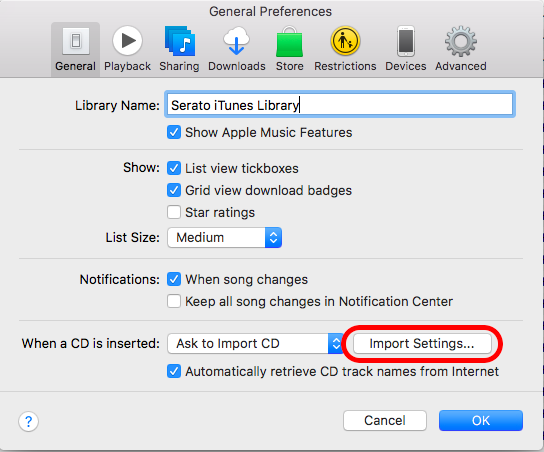 2. Click the General tab, and then click the Importing Settings button in the second section of the window.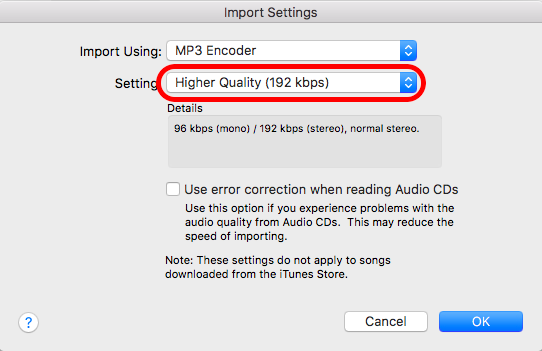 3. From the "Import Using" pop-up menu, choose the encoding format that you want to convert the song to, then click on the Settings dropdown, and select 'custom...' from the list. From this window, click on the 'Stereo Bit Rate' dropdown and select the bitrate you wish. We recommend setting this to 320 kbps if you are converting to an mp3 format.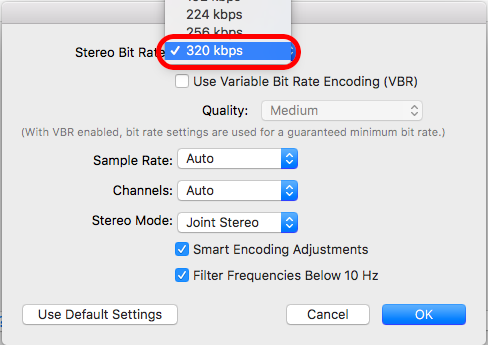 NOTE: Songs can't be upsampled to a higher bit rate, so if your tracks aren't at least 320kbps, this won't change the bitrate.
4. Select one or more songs in your library (if selecting multiple files, hold down CMND (mac) or CTRL (win) and click on all files that you want to re-encode. Open the files window list and click 'Convert' - 'Create MP3/Wav/ACC Version' and iTunes will do the rest.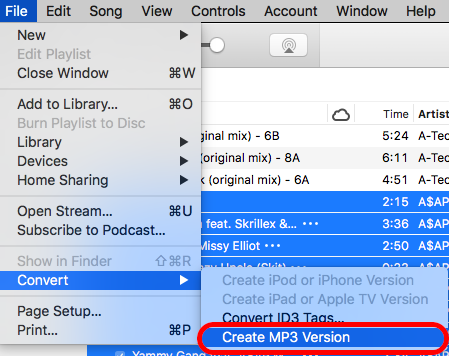 Please note that this will not fix all problem files as some files can be damaged beyond repair.
If you are still having trouble with problem files in your library please feel free to start a help request and someone from our support team will be able to help you out - OPEN HELP REQUEST