The controls below are universal across all FX units in Serato Studio.
Show/Hide FX Panel: Click on the FX button to reveal the FX slots in the space between the Library panels and the Deck view / Scene Player or Song view. In the Master Track view this will appear below the main waveform.

FX Header: Shows the name of the selected Pad or Deck, or simply shows 'Master' in the case of the Master track, and indicates specifically where FX in these slots will be applied. Note the colour of the title in the header will change, in the case of Deck Pad FX, to help quickly identify which Pad has been selected. Hover your cursor above the Header to allow the title to scroll.

FX Depth: Controls the level or amount of the FX that is applied. Note the notch inside the knob will change colour, based on the selected Pad, in the case of Deck Pad FX. Click & drag on the control to adjust the value, or hold control/command on your keyboard while doing so, to make finer adjustments.


FX Slots: Drag & drop FX directly an empty FX Slot, or use the FX Select function to insert FX.

FX On: Click on FX in the slot to turn it on, which is indicated by the inserted FX unit turning purple. Click on it again to turn it off, indicated by the FX turning light grey.

FX Select: Click on the small white arrow on the right-hand side of the FX slot to reveal the FX drop-down. Click on the parent category to expand the list where FX can be chosen. You may also drag & drop FX directly onto a Deck or FX Slot from the FX Files panel.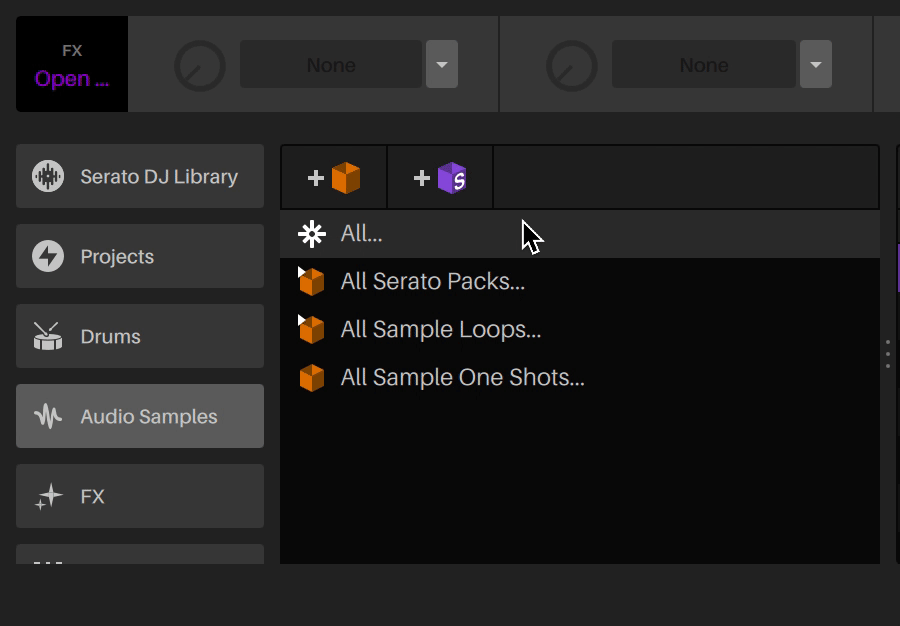 FX Beats: Displays & allows for adjustment of the currently selected value for time-based FX. Click on the small arrows on either side of the timing to cycle through the different timing options.