This is the left area of a Deck. Each pad represents a note, cue or sample loaded to the deck.
NOTE: Pad view may differ depending on whether Keyboard mode and/or Play In Key are ON / OFF.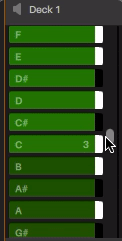 In a Sample Deck you have the option to set up to 8 slices. The pads in the Sample Deck View are assigned Sequencer Pad Numbers. These correspond to the Deck Pad Number shown in the Deck View.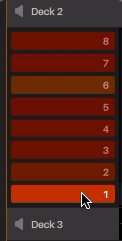 The drum samples in a Drum Deck, show the coloured pads corresponding to the same sample in the Drum Deck View, making it easy to see which sample you are triggering and/or sequencing.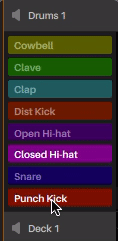 Hovering over a selected drum in the Drum Deck will unveil Mute and Solo options. These options are specific to each drum in the Drum Deck.