Serato Studio Free mode enables you to experience the full Serato Studio application while having a limit on specific features. You can save and come back to your work at any time.
How to access Free mode
Serato Studio can be downloaded from Serato.com. Click here for full installation steps - Installation
Upon launching the application, you will be required to log-in. Click the purple 'Get Started' button, and you will be directed to your default internet browser to sign in to your Serato.com account. Enter your Serato.com account credentials and click 'Sign in'.

NOTE: You need a Serato.com account to use Serato Studio. If you do not have a Serato.com account, click 'Create account' to create a Serato.com account.
Once you've signed in, you will see a 'You're good' to go page to confirm that.
A pop-up will appear in your internet browser to redirect you back to the Serato Studio application - click 'Open Serato Studio' to confirm this.
If a Serato Studio license or subscription is present on your account this will be activated. If not, you will be placed in Free mode
NOTE: If you are experiencing any issues activating Serato Studio, please open a help request
Loading and saving projects
Free mode allows you to open and save Free mode projects without restriction. You can find more info on opening and saving projects here - Projects
Projects made in previous licenced versions of Serato Studio can be loaded in Free mode, however, when a project contains features outside of the Free mode limitations, it can not be saved or exported.
Note: Old projects that exceed the limitations can not be reverted to a state where it can be saved (i.e. remove all non-Free Edition features).
Feature Limitations
A full feature comparison can be found here - https://serato.com/studio/pricing
Note: All limitations below apply to users on the latest version of Serato Studio.
Scene Player
Free mode enables you to create up to a maximum of 4 Scenes. Trying to add 5 or more scenes will require you to upgrade to the full version of Serato Studio.

Deck
Free mode gives you access to all of the available decks (Drum, Sample, Instrument and Plug-in Decks). However, you will be limited to a maximum of 4 decks per session.

Audio tracks
Free mode will allow you to make use of 1 audio track. Trying to add a 2nd audio track will prompt you to upgrade to the full version of Serato Studio.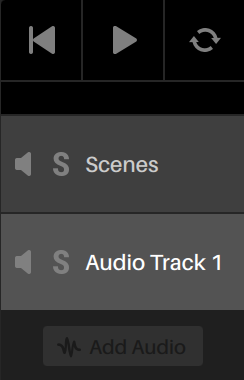 Automation
All automation is disabled in Free mode.

Upgrading
You can upgrade to the full feature version of Serato Studio at any time by clicking the 'Unlock All Features' in the bottom right-hand corner. Alternatively, you can visit this link - https://serato.com/studio/pricing