Installation
1. Locate the pack you wish to download on the Serato Studio Sounds download page, and click on the 'Download Pack' button in the relevant card, or from inside the Serato Studio application, click on the in-app notification: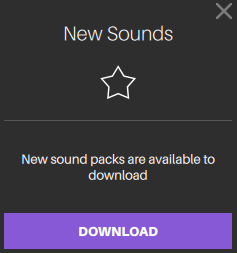 2. You will be taken to the respective Sound packs' download page, and the download will begin. Navigate to your downloads folder, extract the Sound pack from it's .zip file (if necessary) and double-click on the resulting .serato-pack file.

NOTE: If your download does not start, choose the green 'Download manually' button to initiate the download manually.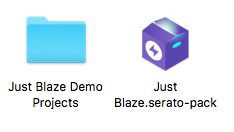 3. After opening the .serato-pack file, Serato Studio will be automatically launched, or if you already have Serato Studio open, focus will change to the application.

4. In the bottom left-hand corner of Serato Studio, status bar messages will appear indicating the pack is being extracted & installed, and you will also received confirmation once it's complete.



5. Some sound packs also include .ssp project files. These example projects include sounds from the relevant pack, and give you an idea how to use the sounds. To use these, choose 'File --> Open project' inside Serato Studio's menu, then , or drag & drop them into your Serato Studio library.
NOTE: Crates containing content from your recently installed Sound pack will be automatically crated in each relevant Library tab, which allows you to easily filter newly added Sound pack content.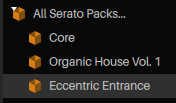 Further information
Why do some of the sound packs on the downloads page have a greyed out 'Download Pack' button?
Serato Studio sound packs are made available to subscribers of Serato Studio. Either you are not signed into Serato.com with the same account you activated your subscription with, you do not yet have a Serato Studio subscription/your Serato Studio subscription has failed to renew, or you're using a Serato Studio trial.
I've followed step 2 from the instructions above, but my selected sound pack is not installing
It's possible your Serato Studio sound pack has not yet finished downloading, or the download has become corrupted during the download process. Try downloading the pack again.
It's also possible you are trying to install a second Serato Studio sound pack, and the first installation is not yet complete. Give it some time and try again later.

What kind of sounds are included, and how much storage space does each pack take up on my computer?
On the download page for each Serato Studio sound pack, you can get an indication of what sounds make up the sound pack, and how much storage space they take up: