We have identified an issue that prevents Serato DJ Pro and Serato DJ Lite from installing, which presents the following error message (Serato DJ Pro example displayed):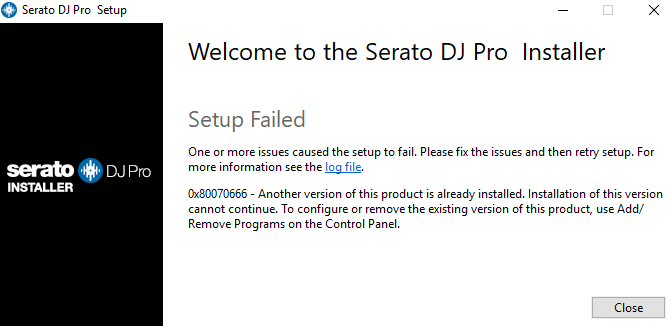 Note: Please check the error message number (0x80070666), as you may be facing a different issue if it does not strictly match the string above.
This can occur on computers that have never had Serato DJ Pro or Serato DJ Lite installed, which can be rather confusing.
While the underlying issue itself has been resolved (in the latest Serato DJ releases), some users may still run into the issue, if the relevant Microsoft packages are currently installed.
If you are facing this issue, please follow the steps below carefully, to resolve it:
Navigate to Control Panel --> Programs and Features
Look for the 'Microsoft Visual C++ 2015 Redistributable package', and uninstall both x64 (64-bit) and x86 (32-bit) versions of the package
Repeat step 2, but uninstall all iterations of 'Microsoft Visual C++ 2013 Redistributable package', and again for 'Microsoft Visual C++ 2012 Redistributable package'