The DJ-FX panel gives you control of the Multi-FX Unit (which is available per deck), with effects powered by iZotopeTM.
The DJ-FX panel button appears in the top left area of the main screen, click

to open this panel.
This will only be available when supported Serato DJ Lite hardware is connected.
Using The DJ-FX

Click the 'Effect Select' drop down box to select an effect for the effect slot.
Click the 'On' button below the effect select box to turn the effects on or off. Click and drag the knobs or buttons to adjust effect parameters. These parameters affect sound differently, depending on what effect you have selected.
Serato DJ Lite FX allows you to select up to three effects per FX bank, and adjust a parameter, the FX Depth.
TIP: You can quickly reset a parameter knob to it's default value by control + clicking the knob.
For most effects the FX Depth knob will usually operate in the same way; having the knob all the way to the left will apply no effect (full dry) and having the knob all the way to the right is the maximum amount you can apply the effect (full wet).
Beats Multiplier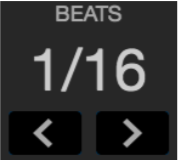 The Effect Beats Multiplier is used to adjust the effect time. The effect time is set using the tracks BPM value, but by applying the Beats Multiplier you can increase or decrease the effect timing.
To ensure your tracks have a BPM Value: SEE SET AUTO BPM FOR MORE INFORMATION