Smart Crates are crates which update their contents by using keywords which are matched with selected tags of your music library tracks. Smart crates can be updated automatically or at your discretion.
To create a Smart Crate, click the Add Smart Crate button in the left hand side of the main screen. A popup window will open which allows you to add the rules to fill your smart crate. Click Add Rule to add a rule for the smart crate to match with. For each rule you can choose a field to match on from the drop down menu:
Added (date) 

Album

Artist

BPM

Comment 

Composer 

Filename 

Genre

Grouping 

Key

Label

Remixer

Song

Whitelabel 

Year
You can then choose the following inclusion / exclusion criteria:
Contains

Is

Does not contain 

Is not
Check the Match all of the following Rules option so that tracks must match all the set rules to be added to the crate. If this option is not checked, any track which matches any of the rules will be added to the crate. Click Save to save your crate or Cancel to exit without saving. Click the Edit button (next to the add Smart Crate button) to edit the rules of an existing Smart Crate. 
How to make a Smart Crate
Using smart crates isn't very hard and its super handy if you want to have some "Go To" Crates for that particular occasion you need a clean or instrumental cut. You can have several "1 rule" smart crates to use for various circumstances. A simple example of Smart Crates that a Club DJ would need could be:
Clean tracks

(radio friendly)

Dirty tracks

(explicit)

Accapellas

Instrumentals

etc...
Making these is super easy, here's how to create a "Clean" Smart Crate to gather all the tracks in your database which are 'clean' (radio friendly).
1. Click the create a smart crate icon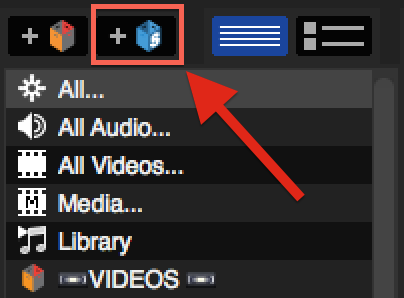 2. Click the add rule option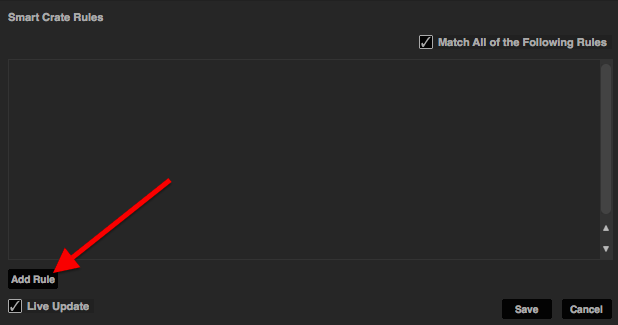 3. Choose the option to sort by "filename" from the drop down menu.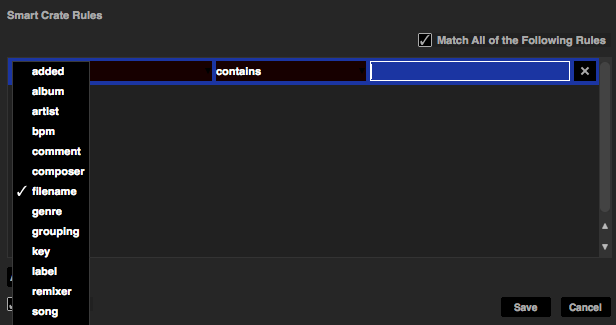 4. Then "contains" from the second option.



5. They all only require one rule each, either clean, acap or inst (or what-ever your rule may be). For this example, we are using the "clean" rule.


6. Now any files that contain 'clean' will populate in the crates you have these rules set. Check your Smart Crate, it should have populated with all tracks you have imported into your library with that specific rule.
So next time you play a kids party/all ages gig, you don't have to search for newly added clean tracks. Or, when that celebrity MC wants to spit a mean 16 in your set, you got that instrumental ready for him in no time.
You can also make Smart Crates that contain all tracks in a similar key. If you anaylze your files using key detection software like Mixed In Key, have a read through this article to create Smart Crates by Key > http://serato.com/latest/blog/15897/using-mixed-in-key-with-serato-software