You can either load a video file and its soundtrack (associated audio) Serato DJ and Serato Video at the same time or you can load separate video and audio files to Serato Video and Serato DJ and play them in sync.
Video files with a GREY icon are normal videos that have their own Audio
Video files with a BLUE icon are audio tracks with associated video files.
To link a video clip to a separate audio track have the audio track loaded to a virtual deck in Serato DJ and drag and drop the video file from the library onto the Associate button.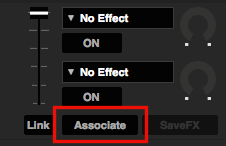 You can also associate video with video - perhaps if you like the audio from one of your video files but want to have different video play for that file.

You can un-associate files by holding CMD + SHIFT, while clicking the 'Associate' button after it turns blue.