Stability is a huge priority at Serato and we work hard to keep everything running smoothly for hard-working DJs. One thing we can't control are the files in your database which can sometimes have a few cobwebs - even a single corrupt file can cause problems. Fortunately, there is the simple process of re-encoding that can help with many instances of corruption.
Re-encoding files using iTunes

When Serato DJ detects a corrupt file it will display the corrupt status icon, the broken disc. Don't be scared, some of them can be fixed.


There are several different types of corruption, so to investigate the reason further, hover your mouse over the status icon in the leftmost column and at the bottom of the screen there will be a longer description.
If songs are showing up as corrupt in Serato DJ but are able to be played in other media players, such as iTunes or Windows Media player, there could be an issue with just the file container and a quick re-encode should fix it for you.
Follow the steps below to convert iTunes tracks to various formats

If you do not have iTunes, you can download it for free by following this link
You can convert a song to a different file format while keeping a copy of the original. For example, you can save a copy of an uncompressed song file such as AIFF or WAV to a compressed format like MP3, AAC, or ALAC.
Saving a copy of a song in a new file format

Check the bitrate of the song you would like to re-encode by adding a "Bitrate" column in the iTunes library.
When converting from a compressed to an uncompressed file format (for example, from MP3 to AIFF) you shouldn't notice any reduction in sound quality. However, when converting between compressed formats (for example MP3 and AAC), you may notice a reduction in the sound quality. For the best results, if you want your music encoded in a different file format, you should import the music again from the original source using the new encoding format.
To convert a song's file format:
1. Open iTunes Preferences. Windows: Choose Edit > Preferences. Mac: Choose iTunes > Preferences.
NOTE: If you are using macOS Catalina, import settings are found under the Files tab in Music > Preferences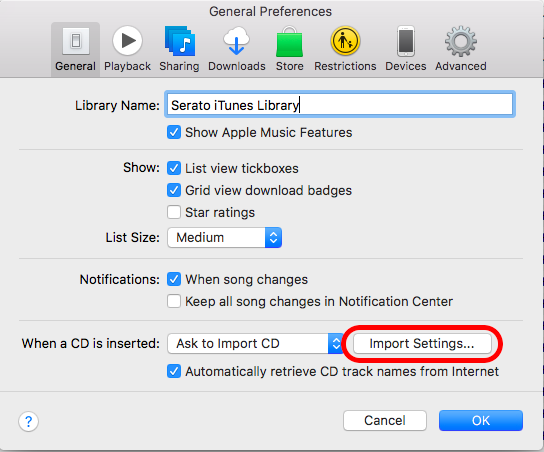 2. Click the General tab, and then click the Importing Settings button in the second section of the window.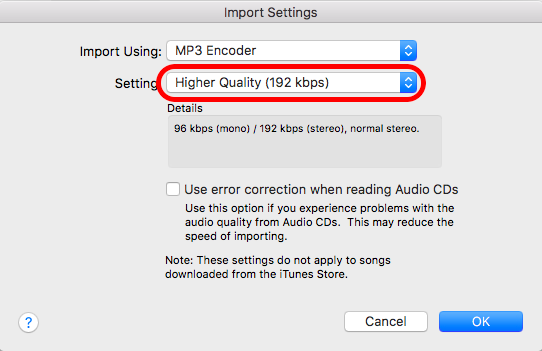 3. From the "Import Using" pop-up menu, choose the encoding format that you want to convert the song to, then click on the settings dropdown, and select 'custom...' from the list. From this window, click on the 'Stereo Bit Rate' dropdown and select 320 kbps.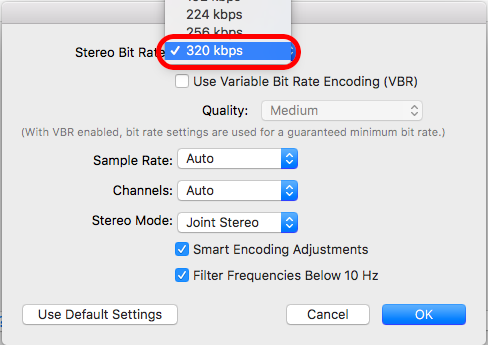 NOTE: Songs can't be upsampled to a higher bit rate, so if your tracks aren't at least 320kbps, this won't change the bitrate.
4. Select one or more songs in your library (if selecting multiple files, hold down CMND (mac) or CTRL (win) and click on all files that you want to re-encode. Open the files window list and click 'Convert' - 'Create MP3 Version' and iTunes will do the rest.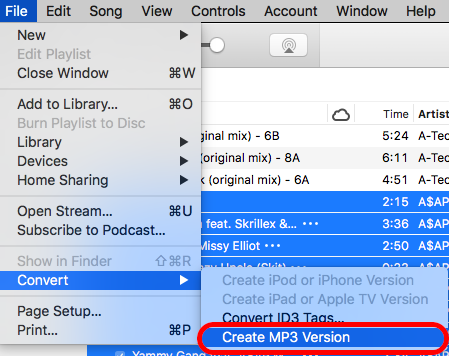 Please note that this will not fix all corrupt files, and some files can be damaged beyond repair. If you are still having trouble with corrupt files in your library please feel free to start a help request and someone from our support team will be able to help you out.

Ideally, you should remove ALL corrupt files from your library as having corrupt files may cause issues with Serato DJ and playback. The most common cause of a crash is having a corrupt file in your music library. You will need to make sure you have all your files analyzed and remove any files marked as corrupt. Check out this article on troubleshooting crashes and what you should do with corrupt files in your library > https://support.serato.com/hc/en-us/articles/202552750-Troubleshooting-crashes
5.
The song in its original format and the newly converted song appear in your library. To retrieve the converted song from your library for use in Serato DJ, right click on the song within the iTunes library and select "Show In Finder" (Mac) or "Show in Explorer" (Windows). You will then be able to relocate the newly converted file to a new location of your choice.