Session logs are generated when a Serato DJ Pro or Lite session is undertaken.
A 'session' can be defined as the events between the software launching, and the software closing.
Most (but not all) of the events that occur during that session are recorded in the session log, and this can be helpful for our Support team to diagnose issues you may face. It also contains information about the Serato DJ Pro or Lite version being used in that session, as well as any Serato-compatible hardware you may have used.
As the software must close successfully to generate a session log, a software crash can mean a session log may not be generated for that specific session.
Only 11 session logs are retained at any one time, meaning every subsequent time you open and close Serato DJ Pro or Lite, a previous session log is overwritten. For this reason it can be important to make note of an issue you may have faced during use, that way you can make a copy of the session log that is relevant, so as not to lose it.
Session logs are also titled in a format that can help you determine which log file pertains to the session or issue you wanted to make note of.
In the example below, we have 3 different session log files: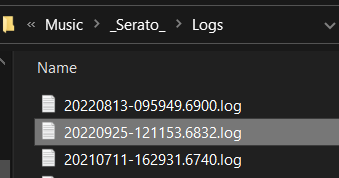 The first set of numbers in the title indicates the date of the session, using a year/month/day format
The second set of numbers indicates the time the session was completed (and the session log was generated), using a 24-hour, hour/minute/seconds format
Using these indicators, we can determine the session logs in the example above, pertain to the following session dates:
August 13th 2022, finishing at 09:59:49am
September 25th 2022, finishing at 12:11:53pm (highlighted)
July 11th 2021, finishing at 4:29:31pm
How to locate & send session logs
Close your Serato DJ Pro or Lite software, and locate the 'Logs' folder via the following directory path;
On macOS: Mac HD>Users>username>Music>_Serato_>Logs
On Windows: C:\Users\<username>\Music\_Serato_\Logs
Right-click on the 'Logs' folder (or the specific .log file inside the Logs folder, that you know to be relevant) and choose Send to > Compressed (zipped) folder on Windows, or Compress on macOS.
A Logs.zip file will be created in the _Serato_ folder.
Open a help request and attach the resulting Logs.zip file from above, with a detailed description about your problem, what you did / were doing when the problem occurred, and if possible, which specific session log file was relevant (if sending the entire folder).
NOTE: Please understand that by simply providing the session logs as detailed above, it does not mean we can be 100% certain about every single event that took place during that session, and more importantly, cannot necessarily fully diagnose or provide an exact explanation for all reported issues.