Serato Studio's Plugins preferences can be found in the Serato Studio Setup window - click the cog icon to open this:
Navigate to the 'Plugins' tab to change your Plugins preferences: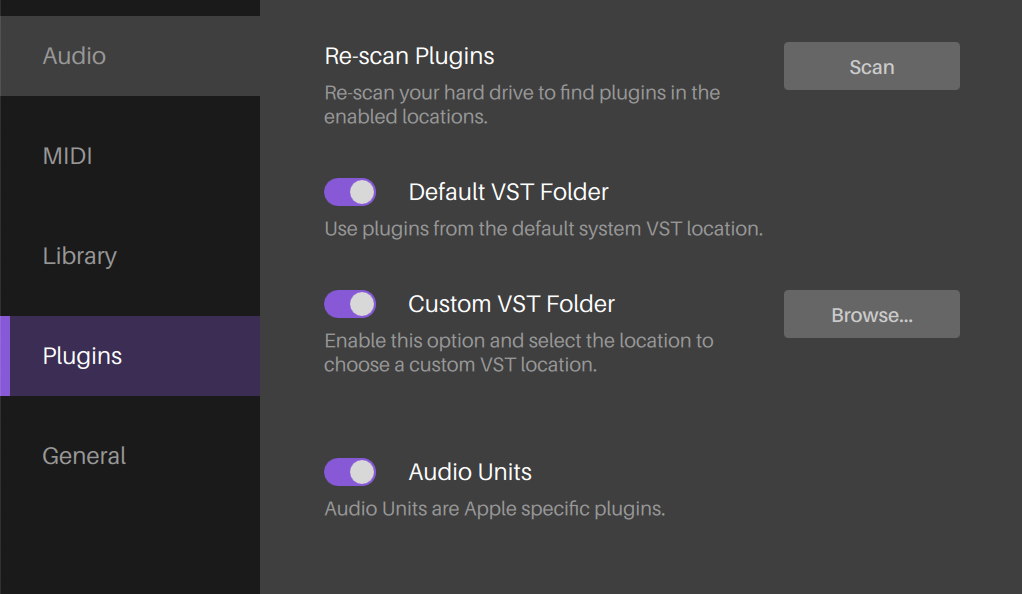 Re-scan Plugins: Clicking 'Scan' will force Studio to re-scan your hard drive to find supported plugins in the enabled locations.
NOTE: VST3 and 32-bit plugins are not supported by Serato Studio. Unsupported plugin types will not be added to the Studio Library.
Default VST Folder: Enabling the 'Default VST Folder' allows Studio to scan the default location for VST 2 Plugins. The default locations can be found below:
Macintosh HD:/Library/Audio/Plug-Ins/VST - for VST 2 plugins (.vst file extension)
C:\Program Files\VSTPlugins
Custom VST Folder: Enabling this option allows you to select and load VST 2 plugins from a custom location on your computers hard drive. Click on 'Browse' to point Serato Studio to the custom VST folder you wish to use.
Audio Units (Mac Only): Enabling Audio Units allows Studio to scan the default macOS location for AU (.component file extension) plugins.