You can name your Cue Points by double-clicking on the Cue Point time. You can then toggle between the name and the time by control + clicking the Cue Point name or time.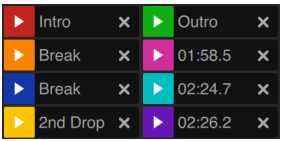 Drag and drop Cue Points to reorder them. You can personalize Cue Point color by right-clicking the Cue Point trigger button.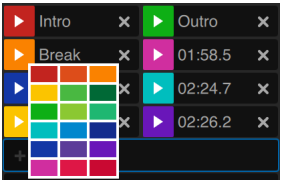 Notice that the stripe on the Virtual Deck jumps to the 12 o'clock position and changes color when you set a Cue Point - you are at the Cue Point when the stripe is one solid color and at the 12 o'clock position.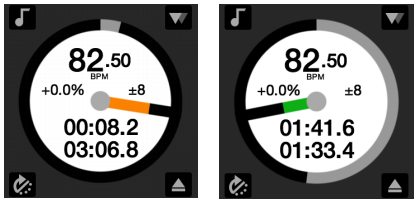 As the track plays on beyond the position of the Cue Point, the colored stripe will shorten by a fifth for each rotation. Likewise, as you approach the Cue Point, the color will grow by a fifth each rotation.