Once you have finished your session, or to upload a previous history session, select the desired session in the History panel. Click the Format drop down box, select Serato Playlists and click the Export button. You will receive the following warning: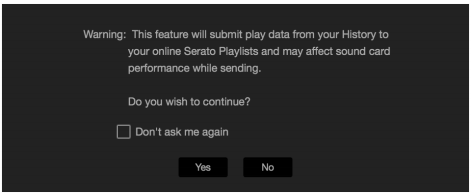 If you choose "Yes" you will then be taken to serato.com where you can review your playlist before choosing to post it online. Once posted, you have the option to edit the playlist and track information.
If the Serato Playlists option is unavailable, please check that you have enabled Serato Playlists via Setup>Expansion Packs>Serato Playlists.
NOTE: We recommend that you turn off any wireless networking devices when using Serato DJ Pro. If you export your playlist online whilst playing you may experience USB dropouts. If so, you may wish to avoid using this function.