The Relocate Lost Files button is located in the Files panel. If you've moved the location of files that are already in your library, they will show up as not found and be displayed in red. Drag and drop a folder from Finder (Mac) or Explorer (Windows) onto the Relocate Lost Files button to search it, and any sub- folders, for files currently marked as not found in your library. Doing this will update the database with their new location.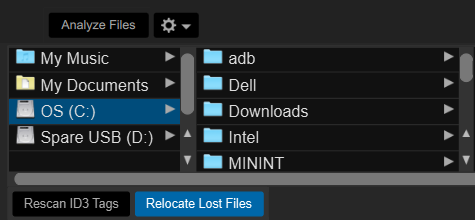 NOTE: Clicking the Relocate Lost Files button will search through all attached drives for missing files but may take a very long time depending on size of Serato DJ library and complexity of hard drive file organization.
IMPORTANT: Turn off the Show iTunes Library option under Setup > Library + Display before proceeding with using the Relocate Lost Files feature. A failure to do this may cause duplicate entries to appear in your library after relocation has completed. You may turn the preference back on after relocation has finished.