A security vulnerability in Quicktime on the Windows platform has been discovered and some users may have been instructed to remove Quicktime from their Windows computer as a security measure. There are two current known vulnerabilities:
Loading a web page that has a malicious Quicktime item embedded
Downloading a malicious video and playing the file with Quicktime.
Unfortunately if you remove Quicktime entirely, all Serato Video and AAC files will become unusable. These files use Quicktime as the playback decoder, allowing them to be used in Serato DJ. If you use Serato Video or AAC files you will need to keep Quicktime installed.
Workaround
If you are a Serato Video user or you have AAC files in your library, you will need to keep Quicktime installed. You can protect against this vulnerability by only removing the .exe (executable) Application files instead of uninstalling the entire program. This will keep all Quicktime codecs and libraries in place so you can use Videos and AAC files in Serato DJ.
The Quicktime application files can be found in:
Local Disk (C:) > Program Files (x86) > Quicktime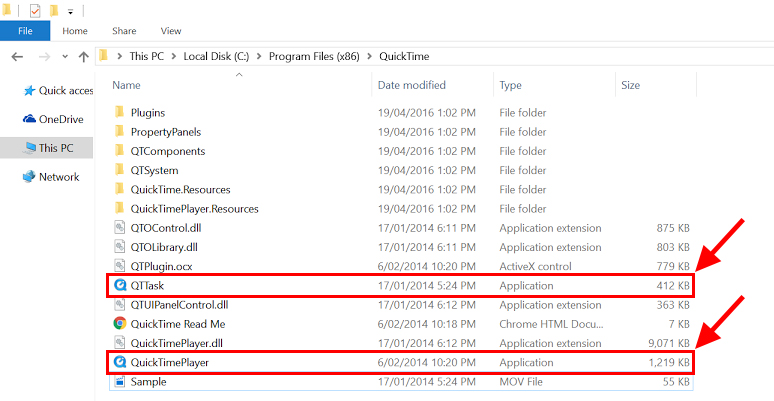 If you remove these two .exe application files, you have minimised the security risk and are able to continue using Serato Video and AAC audio files in Serato DJ. If you do not use Serato Video at all and/or do not have any AAC audio files in your library, you will be safe to remove the entire Quicktime folder.
NOTE: AAC files can be converted to other supported filetypes using a number of third party applications e.g. iTunes.
We are continuing to investigate this issue, but in the meantime please keep Quicktime installed and make sure you always download files from a trusted provider! Be careful of your sources and don't load anything suspicious.